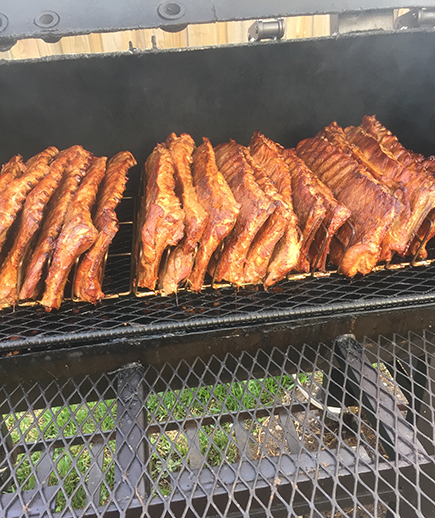 Family Traditions: Fixin' to do a little of that Old Southern BBQ
written by: Devon Weaver, Tulsa Oklahoma BBQ News
We want to make it clear to everyone what we are talking about here." If ya'll not from around these parts or are one of those Yankees, we're here to help. You may have heard of it. "Bobbycue" it's that hog all done up with some great sauce. Ain't nothing like it up where you from."
There is simply nothing better than those traditional great tasting dishes that Grandma used to make. You miss that, don't you? You've been fixin' to chop a little wood, set up the pit and get busy cookin'. If it is going to be great, you have got to find your favorite hardwood so the meat has that right flavor. Do you have some hickory, cherry, pecan, oak or peach all split up and ready to go? (Been fixin' to do that too, right?)
No need to get yourself all worked up. We have been up cooking all night, every night. You can tell simply by the way we smell. Love that aroma.? Nothing like that smoke streaming from the barbeque. We know, you can almost smell it. Now if dreaming about it is enough for you we can sit here and chat about it all day long. We just have to keep an eye on the meat.
We can tell you about those great big potatoes we have cooked to make potato salad. Course, it wouldn't be a real meal without some collard greens. We can make you up some of Grandma's mac-and-cheese and a few other specialty sides. We do it just the way she taught us. Course, we cannot share the recipe, but we can sure make you some, bring it on over and serve it up. Once you've had a taste, there are simply no other options. We are the only folks in the whole area who do barbeque with hard wood. That flavor cannot be reproduced. It has to be done right. We take the time to smoke the meat.
Afraid we might just be a little "too southern" to cater your event? Not so! We love what we do. We share our great food and enthusiasm just the way you like it served. We clean up real nice and we are happy to professionally cater the event with the style and the tone that you are looking for.
Hungry Hog BBQ is the only company that uses hardwood. No one else has Grandma's recipes and no one else has our staff. If you are looking for the best professional experience it begins with the food and carries right up through to our staff. We are looking to build great relationships that will last for years. We know once we have catered an event for you, we will want to share many more. So get together with good friends, good people and absolutely the best slow cooked, traditional Southern BBQ you can find in whole Jacksonville area. We are certain when we are packing up and leaving your event we will be hearing "Ya'll come back soon now, ya hear."